Providing Propane for Brant County & Beyond
Propane is a cost-effective, environmentally-friendly and efficient product to fuel your home and or business. This versatile product can be utilized for home and water heating, refrigeration, home and commercial appliances and agricultural purposes. Renway Energy has access to a reliable supply of propane that enables us to satisfy our customers needs in a quick and efficient manner. Renway Energy employs a dedicated logistics team that is committed to uncompromised customer service and product quality. Our in house HVAC maintenance team can supply and maintain propane tanks as well as complete heating system supply, service and installation. Renway Energy offers worry free automatic delivery services with no additional fees for all of its customer's convenience. Our experienced staff stays up-to-date on industry improvements and has the technical resources to identify the best options to maintain an uninterrupted supply of propane. We utilize the latest dispatching technology, coupled with a reliable fleet and dedicated logistics team, to ensure that you get the products you need, when you need them. We are confident that you can rely on Renway Energy for all your energy needs.
Residential
Propane is a foundational product utilized to create and maintain comfort in your home. Renway Energy offers propane supply options to suit you and your home's needs. The most popular of these options is our no-cost automatic delivery service. Our automatic delivery customers enjoy the benefit of having us manage the responsibility of scheduling deliveries and mitigating run-outs and the inconvenience that comes with them.
Renway Energy residential propane customers also have access to our dedicated on-staff HVAC team. Our HVAC team provides you with 24/7 emergency service, scheduled maintenance, system upgrades for your heating, cooling and air quality needs.
Agricultural
We at Renway Energy respect and understand what it takes to operate a farm. Running out of fuel for your equipment is not an option. Our dedicated dispatching and logistics team is committed to ensuring our customers have the products they need, when they need them. You can rely on Renway Energy to respond quickly to your fuel orders or to manage your fills automatically.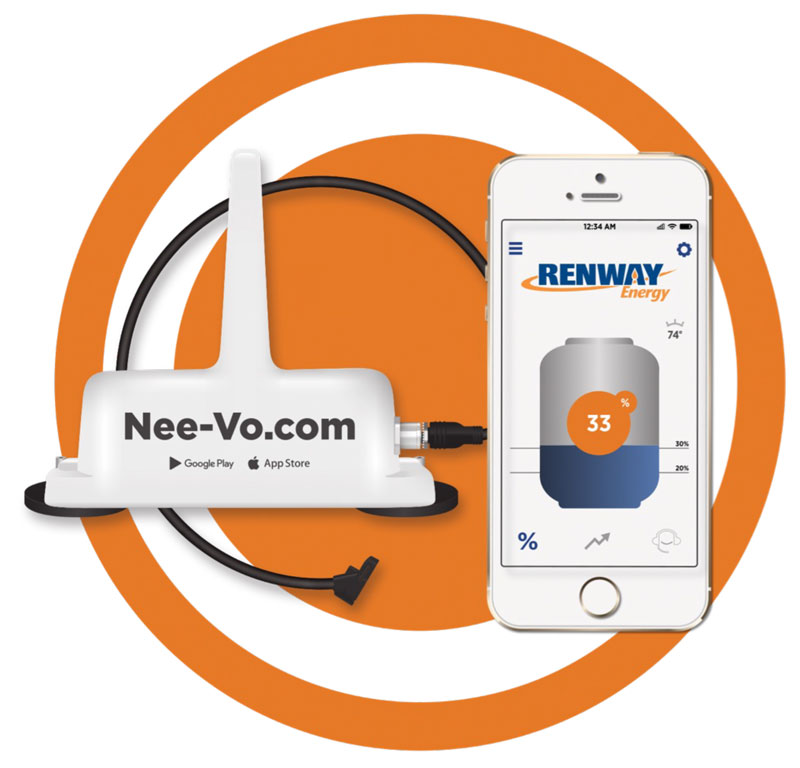 Nee-Vo Tank Monitor
Renway Energy utilizes the Nee-Vo tank monitoring system in our line of customer convenient products. The Nee-Vo monitoring system can measure propane, gasoline, or diesel fuel levels. The monitor easily connects to the Nee-Vo smartphone app allowing you to access and view your fuel levels at any time. Aside from viewing your fuel levels, you can set customized alerts to prevent emergencies and extra delivery fees, and review usage history. You can access the Nee-Vo app by downloading it through Google Play or the App Store, as it is compatible with both Android and Apple products. Please contact info@renwayenergy.com for information and pricing regarding the monitoring system. Also, enjoy free equipment, installation and your first 6 months of monitoring on us.